These are, hands down, the 25 most amazing home theater systems
Dear callawayhometheater,
I've been hearing a lot about home theater systems. I've heard they're really cool, and they can create a movie theater experience at home. Could you tell me what are the most amazing home theater systems you've ever seen and can you, please, teach me how to become one?
Sincerely,
A LCD TV with a bad display
Dear LCD TV with a bad display,
Home theater is truly amazing, and you are right – it will create a movie theater experience at home – minus the driving, the expensive popcorn, drinks and candies, the texting kids, the loud munchers, the chatterboxes, and that one incredibly tall person who always sits in front of you.
Not too long ago, home theaters used to be really expensive and most people couldn't afford them, but now there are more options for home theater setups and more people are choosing to replace their tiny TVs and lousy speakers with a home theater system.
To become a home theater, you will first have to evolve from your small TV-with-a-bad-display shape into a large size, high def movie screen. Then, you will need to make some new friends, like a surround sound system, a film projector, a receiver, a DVD player, and some insanely comfortable armchairs or couch.
Before you become a home theater, think about your owner's needs and budget. If they just want a better entertainment system in the living room, a basic home theater setup will be more than enough. If they want their own movie theater experience, with a large TV and great acoustics, you will probably need to work a little bit more to upgrade yourself.
Our advice is, if you truly want to become a home theater system, don't settle for some boring, plain one. Be as amazing and creative as you can.
To help you find some inspiration, we've gathered 25 of the most amazing home theater systems ever built. From Star Wars, Star Trek, or Batman to Indiana Jones and minimalist designs these are, hands down, the most amazing home theaters.
The Dark Knight Home Theater
Photo: vizimac.com
Dark knight fans with a pile of money lying around can build this incredible high-tech, Batman-inspired home theater. Besides the amazing home theater setup, this system also features a human-size Batsuit and a Batmobile hidden behind the bookshelves. It also features a fake exit designed to look like a secret tunnel. This system costs around $2 million to be built.
Star Wars Death Star Home Theater
Photo: ign.com
This amazing home theater setup is designed to resemble the Death Star. It features automatic doors, a sparkling star field, custom home theater, and replicas of characters like Boba Fett and C3Po. It even features a Han Solo frozen in Carbonite. As expected, the owner of this home theater system is the biggest Star Wars fan out there – the president of the "Star Wars" fan club.
Star Trek Bridge Home Theater
As you can already tell, this home theater system was inspired by the bridge of the starship "Enterprise" from the original Star Trek TV series. It features a Sony LCD projector, a 7.1 sound system, a subwoofer, a Yamaha receiver, a DVD player and Phillips Pronto remote control, and a bass shaker placed beneath the chairs. This system mimics the bridge so vividly that it even has a captain's chair to make you feel like you are in control and you are the one deciding what everyone is watching. The futuristic paneling and the "window" that allows you to gaze at the stars give this home theater system a really futuristic vibe.
Batcave Home Theater
Photo: mymodernmet.com
Star wars, Star Trek, and Batman are three of the most common home theater themes, so we will be seeing a lot of them. Nevertheless, they are arguably the best designs for a home theater extravagantza. Look at this Batcave setup, for example. Created to mimic the settings of a real batcave, with black leather seating, a bar, and a metal screen cover that slides open to reveal a huge movie screen this home theater will make you feel like you are the protagonist of a Christopher Nolan movie.
Titanic Home Theater
Photo: audiovisualwinnetka.blogspot.com
Prepare to dive into an amazing experience with this Titanic-inspired home theater. Among the highlights, this system features a 120-inch TV screen and surround-sound speakers embedded in the room's pillars and ceiling. Speaking about the ceiling, it features 1,230 fiber optic lights, and it was designed to mimic the night sky.
Star Trek USS Enterprise Home Theater
Photo: mymodernmet.com
If you are looking for a home theater deign that is as geeky as it is cool and creative, this Enterprise NCC-1701D from "Star Trek: The Next Generation" might be what you are looking for. Besides the state-of-the-art home theater setup, this system also features motion activated air lock doors (sound effects included), a Red Alert button, and an intergalactic bar. It was crowned the best home theater installation at the Custom Electronic Design & Installation Association (CEDIA) in 2007.
Indiana Jones Home Theater
Photo: ubergizmo.com
Taking inspiration from the famous Indiana Jones series, this home theater installation features the idol from the opening of the first film, torches, whips, and even a Holy Grail replica. We believe it has to be an amazing experience to watch a movie in this home theater while sipping on refreshing inexpensive soda from your own Holy Grail.
The Black Pearl Home Theater
Photo: digsdigs.com
If you want a home theater and also happen to love "Pirates of the Caribbean", you can draw inspiration from this pirate themed design. This home theater complex consists of a front façade entry, pirate ship deck seating, a ship-tavern, pirate flags, seashells, and a treasure chest.
Stargate: Atlantis Home Theater
Photo: gizmodo.com
It is not often that someone takes the love for a movie or a TV series to the next level. Jacob Yarmuth loved "Stargate: Atlantis" so much that he decided to build a home theater installation as a replica of the show. The system features two Sony megachangers that accommodate the DVD, TXX speakers, a huge diagonal circuit screen, and a motion sensor air pocket doors. The ceiling is designed to mimic the night sky with comets appearing from time to time.
20,000 Leagues Under the Sea Home Theater
Photo: soundandvision.com
Inspired by Jules Verne's classic novel, "20,000 Leagues under the Sea", this home theater features submarine and a deep sea diver's suit.
Au Paris Home Theater
Photo: soundandvision.com
Inspired by an early 20th century French Quarter, this home theater will give your home a charming European vibe. To make the experience complete, it even features actual shops that you can enter off the street. The cinematic experience is just as exciting; the installation features high-end audio system and state-of-the-art imagery.
High End Sound System
Photo: kipnis-studio.com
Not all home theater owners are focused in a specific theme or franchise. Some care more about the technological aspect of their installation rather than the aesthetics. It is the case of this home theater setup consisting of a high end 8.8 sound system, with sixteen 18-inch subwoofers. In addition, the installation features an ultra-high resolution projector and an impressive movie screen.
Scarface Home Theater
Photo: toxel.com
Most home theater installations we've shown you were built indoors. But, if you want to put together an outdoor home theater system, you can find inspiration from this Scarface themed design. Placed next to a pool and featuring eight large speakers and a large movie screen, this would be a great way to enjoy the warm summer nights.
Lord of the Rings Home theater
Photos: luxuryhomes.com
One home theater to rule them all! And, no, you won't have to pass through Mordor to get here; you will just need a substantial budget and some imagination.
15. Billiard Club Home Theater
Photo: homecinemagallery.com
Picture this: you are with your friends, watching your favorite TV show, when there's a commercial break or the plot gets so out of control you yourselves need a break. So, you pause, you take your cue sticks and play a short pool game – all this within the perimeter of your own billiard club home theater! The defeated has to make popcorn.
Super Mario Bros Home Theater
Photo: devianart.com
Remember how much you loved the Super Mario Bros game when you were a kid? Well, remember if you could actually play a Mario game in a Mario environment. This home theater features a 60-inch HDTV on an end-of-the-level castle stand, a high end surround sound system with speakers embedded within the Piranha Plants, mushroom table lamps, and matching Mario and Luigi couches.
Egyptian Home Theater
Photo: houzz.com
Prepare to step into an ancient Egyptian tomb completed with sarcophagus, carvings, and deity statues. The large stone doors are coated with faux stone material and two Egyptian figures guard them. The scenery is not entirely historically accurate though, and the state-of-the-art HDTV and sound system ruins just a bit the ancient Egypt vibe.
The Drive-In Home Theater
Photo: electronichouse.com
In a world of Netflix and YouTube videos, almost no one go to the drive-ins anymore. We don't say we particularly miss the bad video quality, uncomfortable car chairs, and the occasional soda spills, but we do get a bit nostalgic from time to time. The good news that we found this drive-in inspired home theater that can give you a throwback feeling.
Royal Home Theater
Photo: electronichouse.com
A home theater suited for a king and queen. This installation features a royal theme, completed with a lustrous chandelier, golden details, and leather chairs.
Golden Era Home Theater
Photo: awesomeinventions.com
This home theater blends the extravagance of classic deigns with high-end technology. Featuring motorized reclining seating and wall embellished with rich embroidery, this installation mimics perfectly a classic movie theater. The only thing that is missing is the balcony.
20s Art Deco Home Theater
Photo: hgtv.com
This home theater installation, designed as an Old Style Hollywood theater room, is as charming and romantic as it gets. Featuring Art Deco design, plush seating, and beautiful details carved into the ceiling, this home theater is truly amazing.
Sci-Fi Home Theater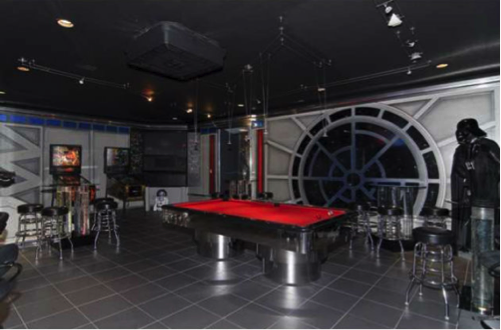 Photo: screencrush.com
In a perfect world, racism, world hunger, and religious war would be eradicated and robots would do our daily chores. Sadly, we do not live in a perfect world, as evidence by the fact that we can't take a ride to the Moon and we don't have a pet robot, which means that we can please our hunger for futuristic technologies with sci-fi designs – like this astonishing home theater. This installation features a pool table, a bar, and a theater system surrounded by Star Wars characters.
An actual movie theater design
Photo: soundandvision.com
If you love movies so much that you are willing to spend money to build your own home theater, why wouldn't you design it like the actual cinema? This home theater features an actual bar with refreshments, popcorn, and candies. The best parts about it – there are no lines and you can pause the movie to get a refill.
The Revolution Home Theater
Photo: gizmodo.com
This rotating home theater is perfection. Featuring front seats that can be rotated 180 degrees to face the second row, a circle-shaped entrance and high-end home theater setup, this installation would make any movie and tech lover jealous.
Monster versus Aliens Home Theater
Photo: dailynewsdig.com
There's more to this home theater than its amazing HDTV, astonishing surround channel, and monster and aliens figures (as if this wasn't enough). As it turns out, the Alien is automated with hydraulics and an air compressor and it can lurch out of the wall.
As you can see, when it comes to home theater designs, sky is the limit. From Star Wars, Star Trek or Batman to Indiana Jones and minimalist designs, from books, history or actual architecture, you can turn your home theater installation into anything you want.
For installation or construction, give us a call. We will design your own amazing home theater room from the ground up.